STATE-OF-THE-ART technology
---
Dataton WATCHOUT multi-display production and playback system lets you orchestrate stills, animations, graphics, video, sound and live feeds in a single impressive show across multiple display areas, soft-edge or scattered. WATCHOUT is a fully scalable, software-based and requires no proprietary hardware.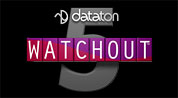 My WATCHOUT Machine
Built from the ground up to be a cutting edge media delivery system, this one computer sets the bar in terms of performance and affordability. Constructed with only premium components, this machine can:
play up to 6 high definition videos simultaneously from one CPU
project an image onto an irregularly shaped surface
blend multiple screens into a single, seamless image
animated object in 3D space
project 3D content
control external devices such as audio and lighting
record and play back DMX events
Utilizes streaming video as a source
The Owner/Operator Advantage
Yes, the fact that I own my own machine offers the opportunity to save you and your clients a great deal of money. But consider these other advantages.
The operator on site (namely me) has over 20 years experience, traveling in support of some of the most advanced presentation systems of the day.
I built this machine from the ground up. I know all it's components and I can personally guarantee it's quality and reliability.
The show can be tested thoroughly prior to load in. I am more than happy to consult during the earlier stages of creative development of the media. Hopefully leading to not only the elimination of preventable technical issues but also fully utilizing what the technology offers.